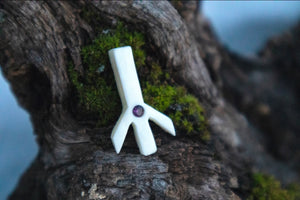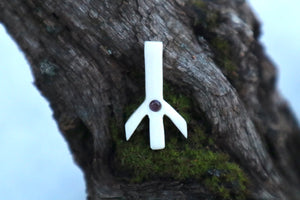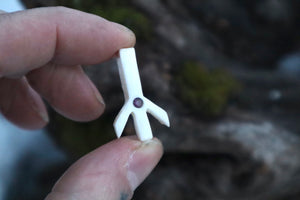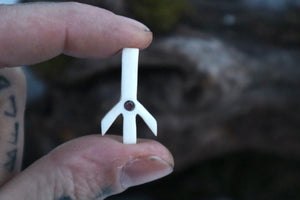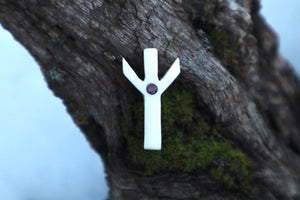 Algiz Wolf Bone Talisman
Algiz Wolf Bone Talisman with Amethyst CZ for sale! You will receive the real Gray Wolf Bone Talisman pictured! This talisman has been hand carved out of a single piece of Gray Wolf Bone in our studio from start to finish. In the middle of the bone we have set a breathtaking Amethyst CZ gemstone. The bone is in the shape of Algiz, The traditional meaning of the Algiz rune is "Elk" and it is seen as a very powerful protection rune when used in the upright position. It can be used as a healing rune that has the ability to ground and nurture both the physical and emotional states. This rune is used as representation of birth, when reversed a representation of death. The reverse Algiz may also indicate a need for protection or a disruption of energy. It measures 2'' long and 1.65'' Wide. The entire bone talisman has been sealed in an archival quality resin.
Please note, If you would like this talisman to be drilled and equipped with a 18'' Silver plated brass chain for a necklace we will do this free of charge! We also have .925 Sterling Silver Chains available for an additional fee. Please include it in your notes, send us a DM, or an email if you would like this done.
This is a real bone, we do not sell replicas. 
Please know your state laws before buying Wolf parts. If you have a question feel free to send us an Email!!