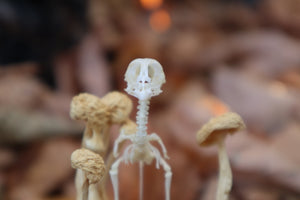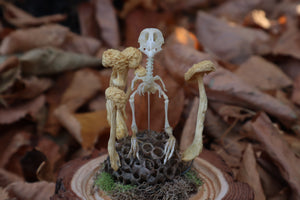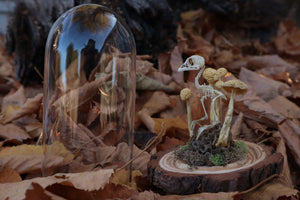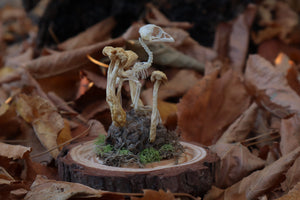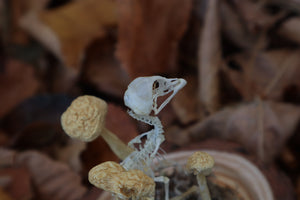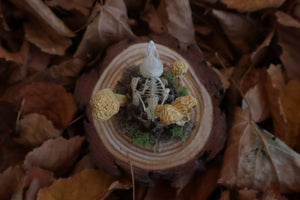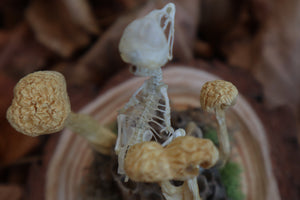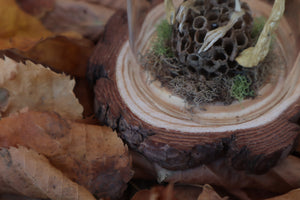 Articulated Chick Skeleton in Glass Dome
Articulated Baby Chick Skeleton in Glass Dome for sale! This listing is for the Articulated Baby Chick Skeleton in Glass Dome Sculpture pictured! This sculpture features one adorable and tiny fully articulated baby Chick skeleton that we processed in our studio from start to finish! Their skeleton is perching on a real dry preserved and resin coated paper wasp nest that has real dry preserved and resin coated mushrooms "growing" out of it! The entire nest is sitting on a small bed of real natural colored dry preserved moss and is set permanently into a hand carved "live edge" pine round base with a thin glass dome. Other than the wasp nest the entire sculpture has been created with removeable wired parts. All of the dry preserved mushrooms are wired and the actual articulation features a real solid filled .925 sterling silver wire. This is done for safe shipping and durability! Since this little one was so young at the time of its death their breastplate had not been fully formed, this was noticeable immediately in the early stages of processing and this is why the breastplate is not present in the articulation. There are some small flaws with the wings and a few ribs so please refer to photos! This baby Chick was sent to us after passing away on a friends farm. The articulation has been coated in an archival quality resin to protect them and add stability. Please refer to the photos! This piece will take 1-5 days to ship due to the fragility and special packing requirements. The entire piece measures 6.5" tall with a  4" diameter. The actual articulation measures 2.75'' tall and 1.5'' wide.
This is a real Chick Skeleton cleaned and articulated by us in our shop. We do not sell replicas.  
If you are interested in a payment plan feel free to send us an email or send us a DM on instagram @freyjas.forest