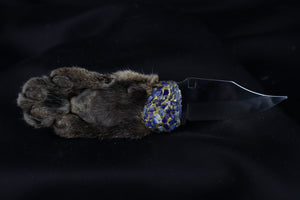 Bobcat Pawket Knife with Extended Claws Knife
Bobcat Paw Knife for sale! This listing is for the real one of a kind handmade Bobcat Paw knife with extended claws and real Lapis Lazuli adorned bolster pictured
. This knife has a real dry preserved Bobcat paw handle with a handmade Lapis Lazuli adorned bolster that has also been painted with a iridescent gold paint. The blade has been hand polished to a mirror finish. This is not a toy however THE BLADE IS NOT SHARPENED!!! If you would like to have the blade sharpened please INCLUDE IT IN YOUR ORDER NOTES!!! We will sharpen the blade free of charge, but you will have the choice of a dull blade or sharp blade. Although, because of the delicacy of the Lapis Lazuli we recommend light use and display as opposed to an every day knife. Details of the different sections of the knife are below in the photos! The knife is 7'' Long with a 3'' blade! 
We treat our feet with a cedar oil spray that we also use on taxidermy so they may have a cedar oil scent when they arrive.
 If you have any questions please message us!