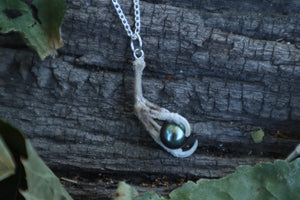 Clutched Pearl Necklace
Clutched Pearl Necklace for sale! You will receive the Clutched Pearl Necklace pictured! This hand made necklace has been created using a real dry preserved Budgerigar foot that is clutching a real green tinted black pearl! All of the hardware including the chain is solid filled .925 silver. We received this parakeet after it passed away from natural causes at a wildlife reserve! The chain measures 16'' long and the pendant measures 1'' tall by .5'' wide. Feel free to send us a message if you have any questions!
These are real feet, we do not sell replicas.