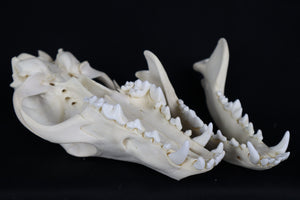 Eastern Coyote Skull
Eastern Coyote Skull for sale! This listing is for the Real Eastern Coyote Skull pictured! Eastern Coyotes are Coyote hybrids that consist of Wolf, Dog, and Coyote parentage. This skull is quite large for the age of the animal. Some of the bone is porous because the skull is from a young animal. Missing one premolar. Please refer to the photos! Length 7.5'' Width 3.5'' Height 3''
All measurements were taken at the longest point.
All of our skulls are real animal skulls and we do not sell any replicas. We clean all of the skulls ourselves.