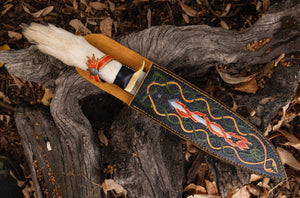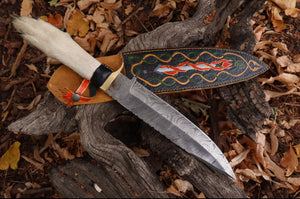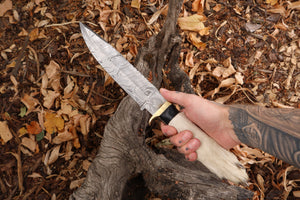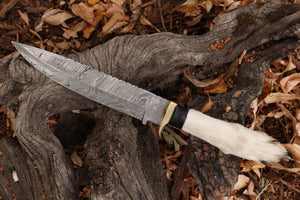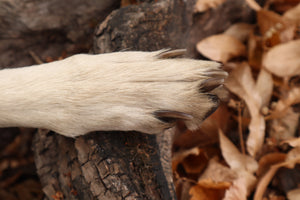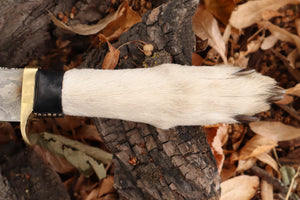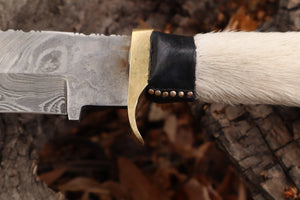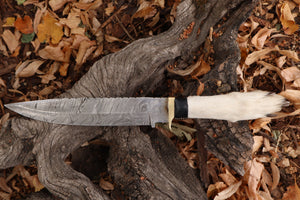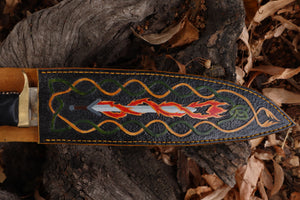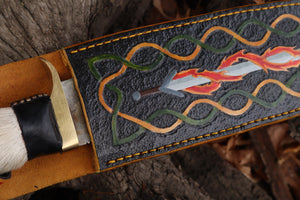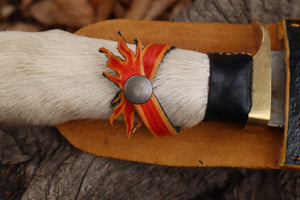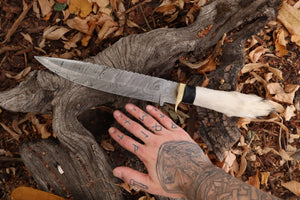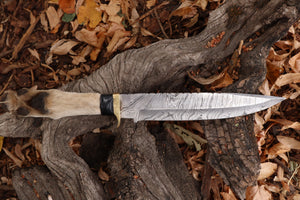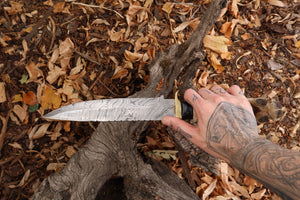 Reserved for Devyn - Damascus Gray Wolf Paw Knife with Flaming Sheath
Damascus Gray Wolf Paw Knife with Sheath for sale! This listing is for the one of a kind handmade Damascus Gray Wolf Paw Knife with the handmade leather sheath pictured. This Knife features a real dry preserved Gray Wolf Paw handle, a sharpened Damascus steel blade, hand dyed leather wrap, brass nails, and solid brass bolster. The Gray Wolf Paw has been professionally preserved in our studio from start to finish. Under the bolster the handle has been adorned with a gorgeous black leather wrap and finishing nails. This specific Knife features a handmade and hand dyed Cowhide Leather Sheath! The sheath features an original hand tooled flaming sword design with a belt loop to keep them close at hand. Details of the different sections of the Knife are below in the photos!
This is a real Gray Wolf Paw, we do not sell replicas.
Please note, this paw has been sourced from a Northern Rocky Mountain Timber Wolf, the Northern Rocky Mountain Timber Wolf is a subspecies of the Gray Wolf located in the Northern Rocky Mountain range. This is not an ESA-listed sub-species and is legal to sell and posses. Idaho Fish and Game Mortality Report available on request. 
Please know your state laws when purchasing Wolf parts.