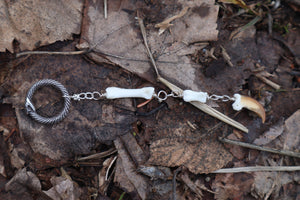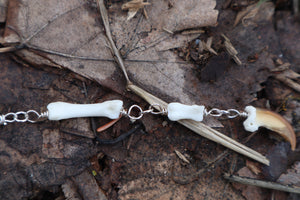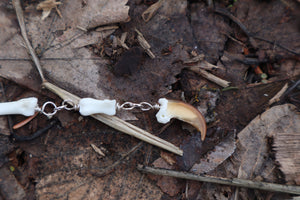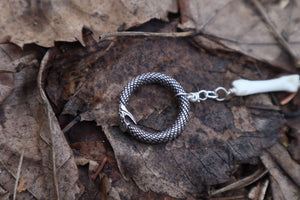 Dead Man's Toe - Fluid Articulated Coyote Finger
This listing is for one "Dead Man's Toe" also know as a fluid articulated Coyote finger. You will receive the "Dead Man's Toe" pictured! This fluid articulation was created using a real Coyote Finger that has been hand drilled and "wired" to flow. All of the hardware used, including the wires that run through each bone, is solid filled Silver and .925 Sterling Silver. This particular Fluid articulation features a solid metal Ouroboros Ring, the snake eating its own tail which represents wholeness, the cycle of life, and the universe. This fluid articulation is designed to be displayed as is. The entire piece measures 4" long.
Please note - this specific toe is a Coyote Dew Claw, which means it is smaller and therefore has been reduced in price. 
These are real bones, we do not sell replicas.