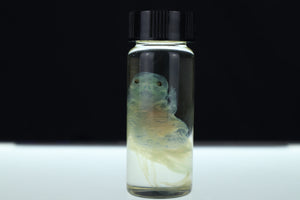 Diaphonized Fetal Beaver
Diaphonized Fetal Beaver for sale! You will receive the diaphonized Fetal Beaver pictured! This Fetal Beaver has been preserved in formaldeyhe and then it has gone through a scientific process referred to as "Diaphonization" which is a method in which the bone and cartilage are stained and the flesh is cleared in order to vividly display the skeletal structure! We received these tiny beaver kits very early on in gestation, to the point where their skeletons had not yet been formed. So we decided the best memorial method would be Diaphonization!  These Fetal Beavers were then sent out to be diaphonized by the extremely talented Kyle @chug_whiskey from Ritual Oddities Shop. You will receive the specimen suspended in glycerin in the jar pictured! The jar is 2.75" tall with a 1" diameter. The jar will be vacuum sealed inside a plastic bag to prevent any leakage during shipping. Once the jar is removed from the vacuum sealed bag it is ready for display!
If you have any questions feel free to message us! Free gifts with every purchase no minimum, no limit!