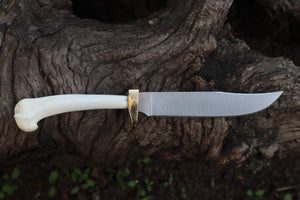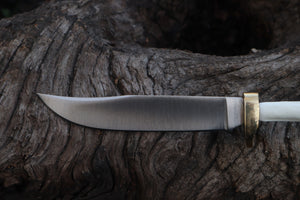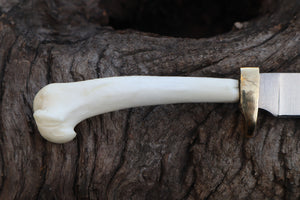 Domestic Cat Humerus Athame
Domestic Cat Humerus Athame for sale! This listing is for the real one of a kind handmade Domestic Cat Humerus Athame pictured! This knife has a real professionally processed hand carved Domestic Cat Humerus for a handle, a sharpened solid stainless steel full tang blade, and a solid brass bolster. This is not a toy! It is a sharp knife that can either be displayed or used.  Details of the different sections of the knife are below in the photos! The knife measures 6.5'' Long with a 3.5'' blade! If you have any questions please message us!
This is a real Cat humerus, we do not sell replicas. This Cat passed away from natural causes prior to being donated to us for our work. We do not harm animals.
If you would like a custom engraving we offer up to 4 Elder Futhark runes for free, please include these in your order notes or get in touch with us via DM or email. We are also offering a custom sheath for an additional fee of $45. If interested in this please get in touch and we can discuss details!