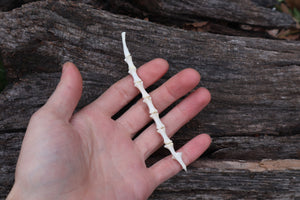 Domestic Cat Sternum Articulation
Domestic Cat Sternum Articulation for sale! This listing is for the articulated Domestic Cat Sternum pictured. This articulation was created using a real Domestic Cat Sternum that has been processed, traditionally articulated, wired, and glued in our studio from start to finish. Please refer to photos. The articulation measures 5.25'' long.
Please note, this Cat passed away from natural causes at an old age prior to being donated to us. We do not harm animals for our work. 
These are real Cat bones, we do not sell replicas.