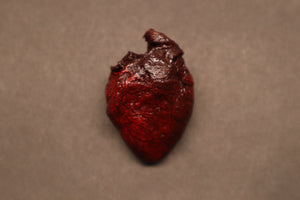 Dry Preserved Bobcat Kitten Heart
For sale is the real dry preserved Bobcat Kitten Heart pictured! This Bobcat Heart has been completely preserved, dried, hand painted, and sealed with an archival quality resin. The heart measures approximately 1.5'' long and 1'' wide. If you would like us to make this heart into a necklace we can do that for you for an extra $10! Please send us a message on Instagram @freyjas.forest or an email through our website if you would like this done! We are also open to other custom displays. 
This is a real heart, we do not sell replicas.