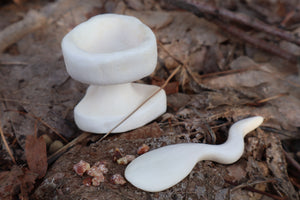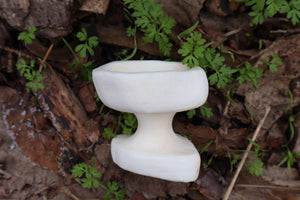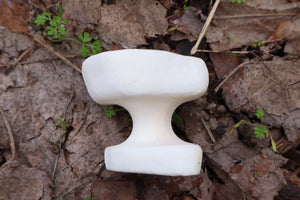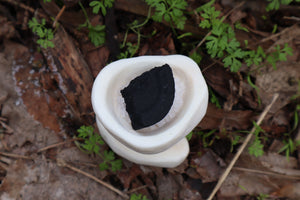 Elk Bone Offering Tools - Chalice and Spoon
Elk Bone Offering Tools - Chalice and Spoon for sale! This listing is for the real Elk bone tools pictured. This small chalice was created from a single piece of Elk Skull and the spoon a single piece of Elk Tibia that has been hand carved and sanded in our studio from start to finish! This particular spoon has been engraved with a bindrune featuring the runes Gebo and Ansuz. This rune has been stained with a homemade dye featuring natural ingredients including rose madder and moon water. This combination of runes was discovered in the Spear of the Kragehul Swamp, which was found near Flemlose, Denmark dating back to 300-400 CE. Commonly interpreted as a war cry, it has been suggested that when in a bindrune these runes could suggest a gift or offering to the gods. Information sourced from Ginnrúnbók: The Book of Primeval Whispers by Ljóssál Loðursson.
This chalice can be used as an incense censor for charcoal and resin incense burning as pictured. Please note, if you use this piece as an incense burner the bone may discolor from heat and age/use. Always place a thick layer of sand or salt underneath the charcoal before lighting, do not allow charcoal to touch bone directly.
This chalice measures 1.75" Tall and 2" Wide. The Spoon measures 3" Long with a 1.5" Scoop.
This is real Elk Bone, we do not sell replicas.