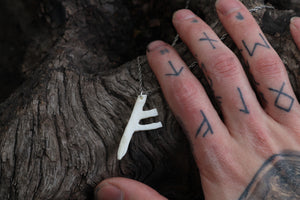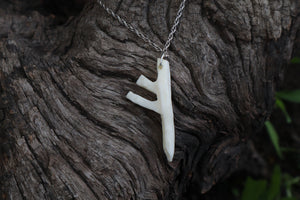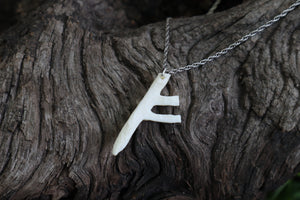 Fehu Wolf Bone Talisman
Fehu Wolf Bone Talisman for sale! You will receive the real Gray Wolf Bone Talisman pictured! This talisman has been hand carved out of a single piece of Gray Wolf Bone in our studio from start to finish. The bone is in the shape of Fehu, the rune for luck, abundance, and wealth. There is a small drill hole at the top of the bone with a .925 Sterling Silver jump ring which is connected to an 18'' Silver coated Brass chain. The pendant itself measures 1.75'' long and 1'' Wide.
This is a real bone, we do not sell replicas. 

Please know your state laws before buying Wolf parts. If you have a question feel free to send us an Email!!