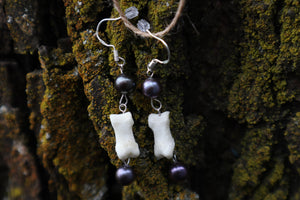 "Fenrir's Toes" Earrings
This listing is for ONE pair of "Fenrir's Toes" Earrings. You will receive the pair of handmade "Fenrir's Toes" earrings pictured! These earrings have been created using real Black Wolf Toe bones and real Black Pearls! The toe bones come from a Wolf we are currently soft mounting in our studio and the pearls were found after we shucked the oysters in our studio! The ear hooks, the piece that goes through your piercing, are 925 silver. 
These are real bones and pearls, we do not sell replicas. 

Please know your state laws before buying Wolf parts. If you have a question feel free to send us an Email!!