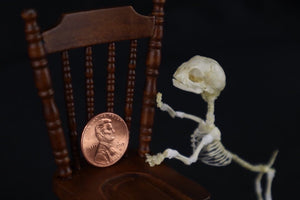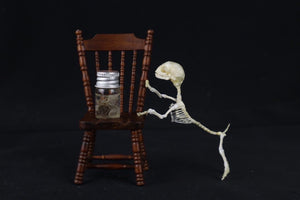 Fetal Bobcat Articulation
Fetal Bobcat Articulation for sale! This listing is for the real fetal Bobcat Articulation pictured. This fetal Bobcat has been articulated to be stretching on a small hand carved wooden chair! The chair is included with the articulation as well as the Fetal Bobcat's wet specimen heart, and lungs. was gifted to us still inside the amniotic sac. This articulation is 4" long by 2" wide by 3.5" tall. The Claws on the front paws are developed and present in the articulation. The sternum is intact and attached to ribs. Please refer to the photos! This articulation will take 2-7 days to ship due to the fragility and special packing requirements. 
This is a real Fetal Bobcat Skeleton cleaned and articulated by us in our shop. We do not sell replicas.