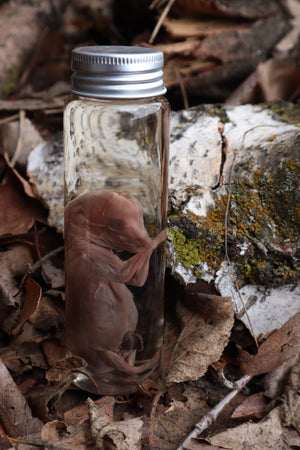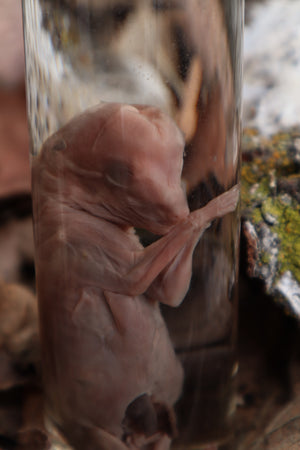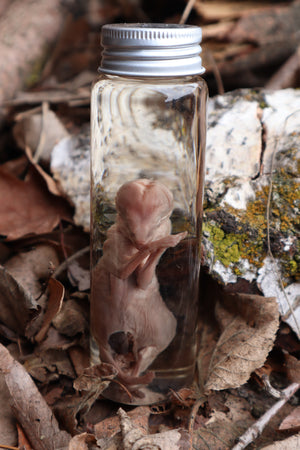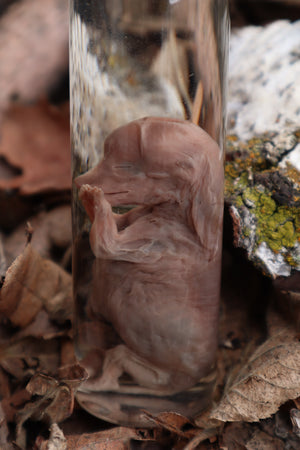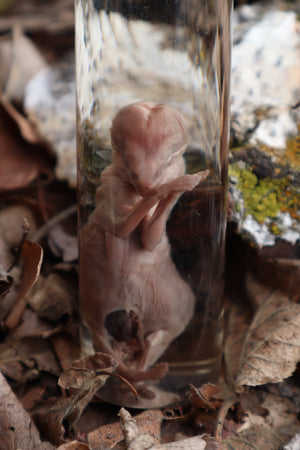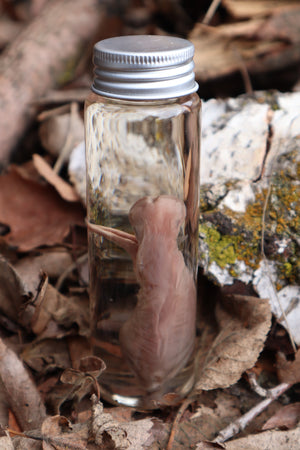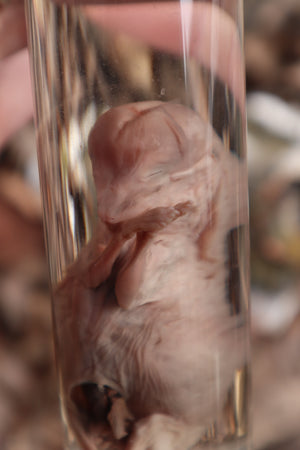 Fetal Coyote Pup Wet Specimen with Gastroschisis
Fetal Coyote Pup Wet Specimen with Gastroschisis for sale! You will receive the Fetal Coyote Pup Wet Specimen with Gastroschisis pictured! The Fetal Coyote Pup Wet Specimen Wet Specimen has been professionally preserved in formalin and rests in 70% isopropyl Alcohol. The fetus measures 2.75'' long and the jar measures 4.75'' tall with a 1'' diameter opening. The jar pictured is included, all measurements taken at the longest points.
 This particular fetus features a congenital disorder known as Gastroschisis. Gastroschisis is a birth defect of the abdominal wall where the fetus's intestines are found outside of the body, exiting through a hole beside the belly button. The hole can be small or large and sometimes other organs, such as the stomach and liver, can also be found outside of the body. The organs do not have a covering membrane present as compared to other similar congenital birth disorders. 
Please note, due to this disorder the fetus can obtain air pockets inside the belly when outside of its liquid. If the fetus floats upon placing in the jar with new isopropyl you will need to gently squeeze these air bubbles out of the belly. We are available to help should this occur.
The specimen will be shipped to you WITHOUT liquid, and the specimen will be vacuum sealed for extra protection! Upon receiving the specimen you will have to remove it from the vacuum seal, remove the protective packing material, and fill with 70% Isopropyl Alcohol. If you have any questions feel free to message us! Free gifts with every purchase no minimum, no limit!