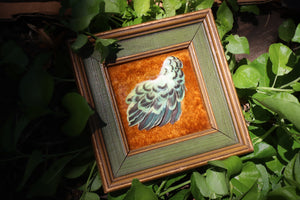 Framed Parakeet Plumage
Framed Parakeet Plumage for sale! You will receive the Budgerigar Plumage in a lovely vintage wood frame pictured. These feathers belong to a Parakeet that we are articulating in our studio, they have been mounted permanently to the vintage frame which has hardware to hang on the wall!
Please note, this Budgerigar was sent to us after passing away from natural causes in a Wildlife Reserve. We do not harm animals for our work.
The framed piece measures 4.5" x 4.5", Please refer to photos! All measurements were taken at the longest point.
These are real feathers, we do not sell replicas.