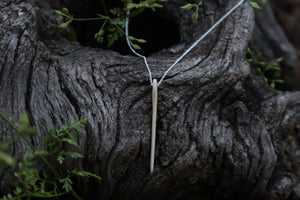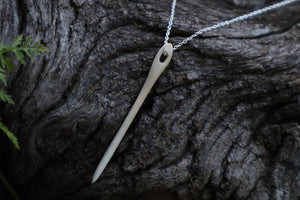 German Shepherd Bone Sewing Needle Necklace
German Shepherd Bone Sewing Needle Necklace for sale! You will receive the real hand carved German Shepherd Bone Sewing Needle and 16" .925 Sterling Silver Chain pictured. This needle has been hand carved in our studio from start to finish from a single piece of real German Shepherd Tibia! The needle features an eye for thread and measures approximately 2" long. Please refer to photos!
This is a real German Shepherd bone, we do not sell replicas. 
Please note, This German Shepherd was donated to us by @fabled_oddities after passing away from an unfortunate road collision, we do not harm animals for our work.
Bones have been used to create sewing needles in many cultures for thousands of years, the world's oldest sewing needle with an eye found to date was created from an unidentified Bird Bone and measures in just under 3", this needle was found inside Siberia's Denisova Cave and is said to be 50-60,000 years old. Experts believe that this sewing needle predated homosapiens and was created by an extinct species of human known as the Denisovans. Other bird bone sewing needles have been found in Sibudu Cave in South Africa which also date back to 50-60,000 years, although it is not clear if these had an eye for thread.