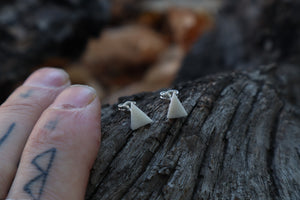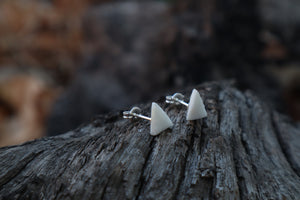 Gray Wolf Bone Trismegistus Earrings
Gray Wolf Bone Trismegistus Stud Earrings for sale! This listing is for the pair of hand carved Gray Wolf Bone Stud Earrings pictured. These earrings have been created using real Gray Wolf bone that has been hand carved into two small triangles, .925 Sterling Silver Stud ear hooks, and a .925 Sterling Silver Butterfly backs. The bone comes from a Gray Wolf mandible that was processed in our studio from start to finish. Trismegistus translates to thrice greatest and refers to the divine symbol that is the triangle and the three aspects which are revered in many cultures. Most potently this adjective refers to an epithet used in 'Hermes Trismegistus,' the combination of the Greek god Hermes, the god of communication and knowledge and the Egyptian god Thoth, originator of Egyptian culture, the god of writing, of religion, and of the arts and sciences. These bone triangles measure .25" long by .25" wide.
This is real bone, we do not sell replicas. 
Please know your state laws before buying Wolf parts. If you have a question feel free to send us an Email!! 
Please note the last photo is only an example of a bone stud being worn and may not be this exact earring.