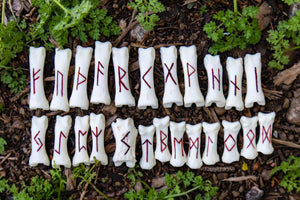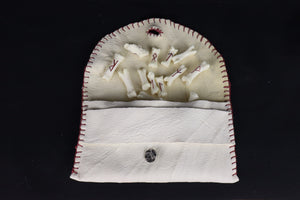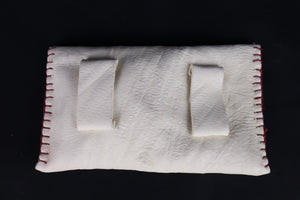 Gray Wolf Elder Futhark Rune Set
Gray Wolf Elder Futhark Rune Set for sale! This listing is for the handmade Gray Wolf Elder Futhark Rune Set pictured! This rune set consists of 24 hand carved Gray Wolf Phalange (Toe Bone) Runes that have been stained with a custom dye that consists of pure alizarin from the madder plant and moon water blessed under May's Flower Moon! The set also includes the custom handmade soft tanned White Buck Skin Pouch pictured which features belt loops and a beautiful handmade pewter button created by The Ram's Horn Foundry in New York! The Pouch measures 7" wide by 5" tall.
These are real bones and leather, we do not sell replicas. 

Please know your state laws before buying. We are licensed taxidermists and fur dealers in the state of Washington where it is legal to buy/sell/and trade Wolf parts. If you have a question feel free to send us an Email!!