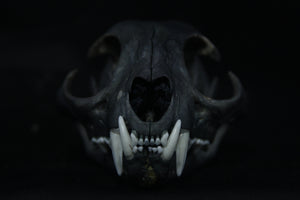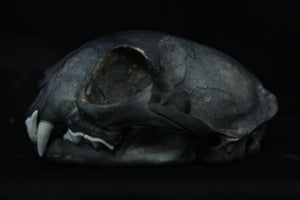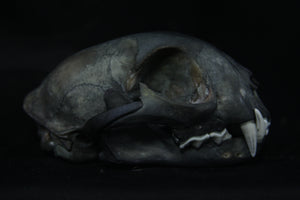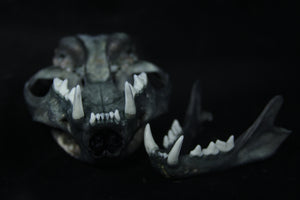 Harmony Stained Bobcat Skull
This listing is for the stained bobcat skull pictured. This bobcat has been stained using a mixture of Blueberries, Wine, Mugwort, Dragons Blood, St Johns Wort and Sage. We chose these fruits, flowers and herbs because they are all associated with protection and harmony with nature. 
The Blueberry - is most commonly referenced as a fruit representing protection and peace. It is said that it can stop psychic attacks, keep a household safe, and bring forth feelings of calmness and acceptance.
Wine - Commonly associated with divine love and harmony with nature, wine is an ancient drink said to be enjoyed by the gods and is still used in many religious ceremonies today. It well known for its romantic properties and is often used in love spells and as a furthering of spiritual development. 
Mugwort - is notorious for its use as an entrance to astral traveling, known as a powerful dream enhancing herb. This magical herb is also said to be carried to increase lust and fertility. Often used in magical ceremonies to connect the users with nature and expand their spiritual awareness. 
Dragons Blood - Most known for its protective qualities, it has a very powerful energy and the ability to purify. It is said to increase the potency of a spell if burned during the process. Dragons Blood brings good luck and has the ability to drive away negativity from a home. This mystical resin is also known to be used a sort of magical ink. 
St Johns Wort - A very mystical dream enhancing herb that carries the ability to protect oneself from illness and darkness. It is said that this herb can protect against all forms of black witchcraft. Often used in the divination of crystals.
Sage - One of the more well known cleansing herbs, this herb is said to remove negative energy from an object or space if burned. Know for its effectiveness in self purification and aiding the overcoming of grief or loss. Some believe that when you write a wish on a sage leaf and place it on your pillow and you dream of this wish it will come true.
This bobcat is missing one bottom incisor and the back of the skull has been cut, which is reflected in the price. Please refer to the photos! Length 5'' Width 3'' Height 2.5''
All of our skulls are real animal skulls and we do not sell any replicas. We clean all of the skulls ourselves.