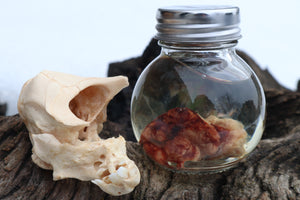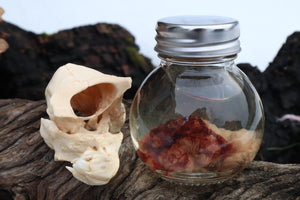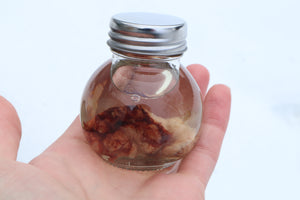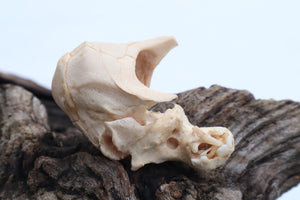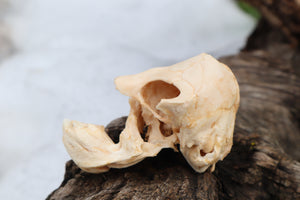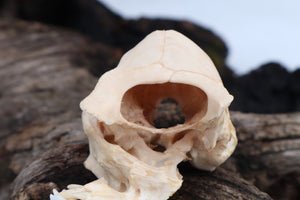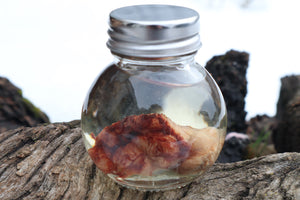 Holoprosencephalic/Cyclopic Piglet Skull and Wet Specimen Brain
Holoprosencephalic/Cyclopic Piglet Skull and Wet Specimen Brain for sale! This listing is for the Real Holoprosencephalic/Cyclopic Piglet Skull and Wet Specimen Brain pictured! This Piglet Skull features a rare congenital disorder known as "Holoprosencephaly (HPE) which is the failure of the prosencephalon, or forebrain, to develop normally. The forebrain is a region of the brain in the fetus that develops into parts of the adult brain, including the cerebral cortex." quoted from www.rarediseases.org. The most severe facial expression of the holoprosencephaly syndrome is known as Cyclocephaly which is " a rare form of holoprosencephaly and is a congenital disorder (birth defect) characterized by the failure of the embryonic prosencephalon to properly divide the orbits of the eye into two cavities." quoted from the U.S National Library of Medicine. While processing the skull we were unable to exactly diagnose the congenital disorder, even though there is no development of the prosencephalon into two orbits, there was also no eyeball present. The brain was uncovered other than a thin fleshy sack which held fluid inside the head. There are no missing teeth or damage present to the skull. We have also included the entire undamaged brain which has been professionally wet preserved with formalin and sits in 70% isopropyl. The jar pictured is included. This skull and brain have been processed in our studio from start to finish. Please refer to the photos! The Skull measures Length 3'' Width 2'' Height 1.5'' The Brain measures 2" Long and the jar measures 3" Tall and 2.5" Wide. 
Please contact us via email or DM if interested in a custom display stand/glass dome/or case and we can discuss possible options! 
All measurements were taken at the longest point.
All of our skulls are real animal skulls and we do not sell any replicas.