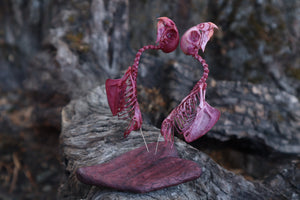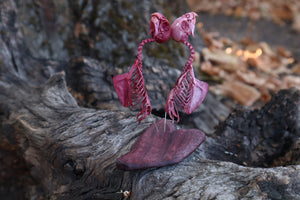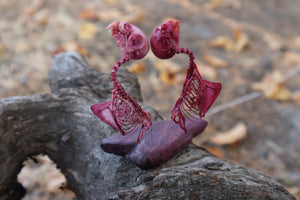 Lovebirds - Articulated Budgerigar Sculpture
Lovebirds - Articulated Budgerigar Sculpture for sale! This listing is for the Lovebirds - Articulated Budgerigar Sculpture with handmade base pictured! This sculpture features two partially articulated Budgerigar skeletons that have been processed from start to finish in our studio. We then stained the skeletons with a homemade natural dye that consists of moon water blessed under the September Harvest moon, Strawberries, Cherries, and pigment from the Rose Madder plant! Each individual articulation has been wired and features a solid filled .925 sterling silver wire that fits into the base. This entire sculpture has been created with shipping and stability in mind, meaning every part is removeable! The base has been created using Purple Heart wood that is hand carved into the shape of a heart. Both articulations have been coated in an archival quality resin to protect and enhance their color and for added stability. These Budgerigars passed away from natural causes at a wildlife reserve before being sent to us.  Please refer to the photos! This piece will take 1-5 days to ship due to the fragility and special packing requirements. The entire piece measures 4" tall and 4.25" wide. 
These are real Budgerigar Skeletons cleaned and articulated by us in our shop. We do not sell replicas.  
If you are interested in a payment plan feel free to send us an email or send us a DM on instagram @freyjas.forest