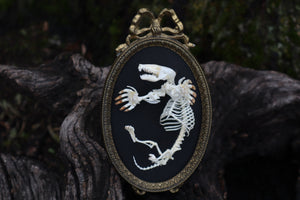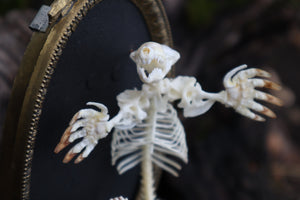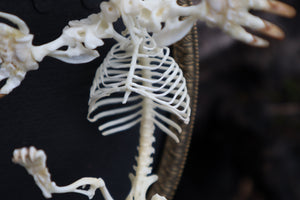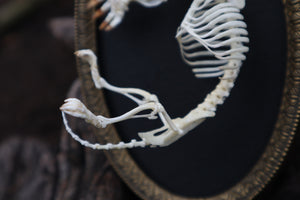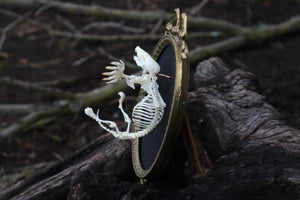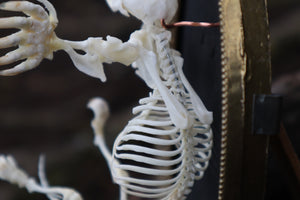 Mole Skeleton Articulation
Mole Skeleton Articulation in a real altered antique metal frame for sale! This listing is for the skeletal articulation with display frame pictured! This Mole skeleton has been completely processed in our studio from start to finish, it has been articulated wired and glued. The entire skeleton has been sealed with an archival quality resin to add stability and protect the bone! The frame is a real Antique Italian Metal frame that has been altered to have a small brass wire with a hooked end flush set into the frame. The entire articulation rests on this hook, which supports the skeleton through the brain cavity! This means that the entire skeleton is removeable for observation and safe shipping. There are some "imperfections" including a small amount of residual grease on the tips of the ulnas and inside the innominate bone. The tip of one ulna was broken prior to processing and there is a small amount of fibrous tissue remaining on the hands and feet. Please refer to the photos! These "imperfections" do not effect the way the piece displays and are normal. The entire piece including the frame measures 7.75'' tall and 4'' wide! The skeleton alone measures 4.5'' long by 4'' wide. This piece will take 1-5 days to ship due to the fragility and special packing requirements. 
This is a real Mole Skeleton cleaned and articulated by us in our shop. We do not sell replicas.  
If you are interested in a payment plan feel free to send us an email or send us a DM on instagram @freyjas.forest