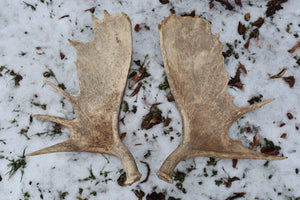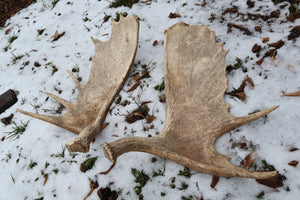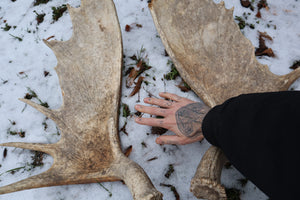 Moose Antler Sheds - Natural Pair
Moose Antler Shed Pair for sale! This listing is for the naturally shed Moose antler pair pictured! You have the choice to buy either Antler individually or you can purchase them as a pair at a discounted price. All options include free shipping! These antlers were locally scavenged right here in the Inland Northwest and were found within a few hundred feet of each other. These are highly suspected to have come from the same Moose and would look lovely displayed together on a wall. The left Antler (based on the photos)  measures 26'' Long and 18" wide and weighs in at 5 pounds 6 ounces. The right Antler (based on the photos)  measures 27'' Long and 22" wide and weighs in at 6 pounds 2 ounces.  The Antlers have a gorgeous natural patina and would be perfect for carving, bone crafts, or display as is! 
All of our bones are real animal bones and we do not sell any replicas.