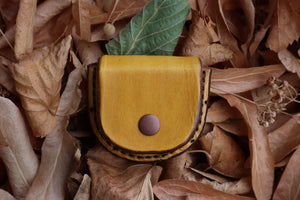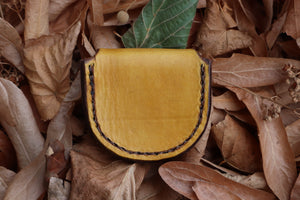 Mountain Lion Bone Divination Set - Sunshine Yellow and Bison Brown
Mountain Lion Bone Divination Set for sale! This listing is for the handmade Mountain Lion Bone Divination Set with leather pouch pictured! This rune set consists of 2 hand carved Mountain Lion Phalanges with the Algiz rune on the front of each bone which represents life or "yes" and the reverse Algiz runes on the back which represent death or "no". The traditional meaning of the Algiz rune is "Elk" and it is seen as a very powerful protection rune when used in the upright position. It can be used as a healing rune that has the ability to ground and nurture both the physical and emotional states. Traditionally this rune is used as representation of birth, when reversed a representation of death. The reverse Algiz may also indicate a need for protection or a disruption of energy. These carved runes were then stained with a homemade crimson dye which represents the cosmic bloodline. This dye consists of natural ingredients and Moon Water that has been blessed and brought forth under August's Full Blue Sturgeon Moon also known as the Grain Moon! This set includes the custom handmade dyed hard leather pouch pictured. All of which was created from start to finish in our studio! The Pouch measures approximately 3" wide by 2.75" tall.
These are real bones and leather, we do not sell replicas. 
Please know your state laws before purchasing Mountain Lion parts. If you have a question feel free to send us an Email!!