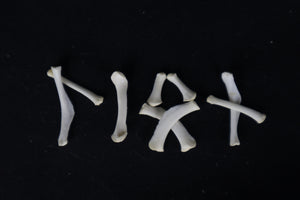 Mountain Lion Hyoids
Mountain Lion Hyoid bones for sale! This listing is for one full set of Mountain Lion Hyoid bones. Ever wanted to own a pair of purrr bones? Now is your chance!! The Hyoids are located in the throat and aid in swallowing and tongue movement as well as being the foundation of the voice box. The evolution of Hyoid bones in Humans is the reason we as a species are able to talk! These Hyoids have been fully processed, degreased, and whitened. They are perfect for an articulation which would make a wonderful educational display! Please know your state laws when it comes to owning Mountain Lion parts. We are licensed Fur Dealers and Taxidermists in the state of Washington where it is legal to buy/sell/and trade in Mountain Lion parts. The hyoids range in length from .25'' to 1''. However the majority of the bones are 1'' long. 
All of our bones are real, we do not sell replicas. We clean all of the bones ourselves.