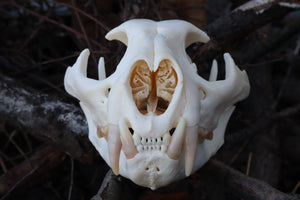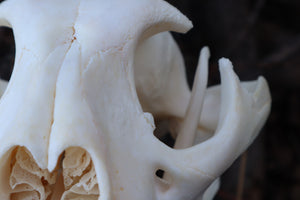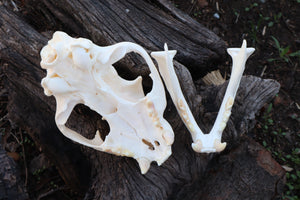 Pathological Mountain Lion Skull
Real Pathological Mountain Lion Skull for sale! You will receive the Mountain Lion Skull pictured. This specific Mountain Lion Skull features some interesting pathology including a bone growth on the sagittal crest and a small growth near the left Zygomatic, as well as some interesting bone texture throughout different areas of the skull. Please note, There is one small missing back molar on the skull and one of the premolars was pulled and sent to the DNR. There is also a small amount of damage on the roof of the mouth and hairline fractures present on either side of the mandible from processing (this is not uncommon), this is all reflected in the price. Please refer to the photos! Length 8.5'' Width 5.75'' Height 4''. All measurements were taken at the longest point!
Please Know your state laws when purchasing Mountain Lion parts, if you are unsure feel free to contact us on Instagram @freyjas.forest or via email!
The Idaho Fish and Game Mortality Report is available on request.
All of our skulls are real animal skulls and we do not sell any replicas. We clean all of the skulls ourselves.