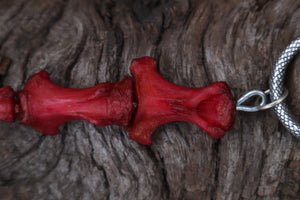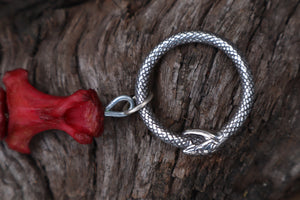 Naturally Stained Elk Tail Articulation
This listing is for one Naturally Stained Elk Tail Articulation. You will receive the Elk Tail Articulation pictured! This articulation was created using a real Elk Tail that has been hand drilled and traditionally wired/glued. The tail has been naturally stained with a homemade dye that consists of moon water blessed under the October Full Harvest Moon, Cayenne, Ginger Root, Mustard Seed, Tumeric, and Rose Madder. Each individual bone was then coated in an Archival Quality Resin to protect the color and add stability. At the top of the last vertebrae is a small loop created using the structural support wire which connects to a jump ring that connects to a solid metal ornate Ouroboros display ring. This articulation is designed to be a keychain or displayed as is! The tail measures 7'' long.
These are real bones, we do not sell replicas.