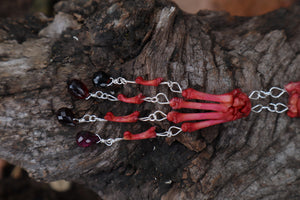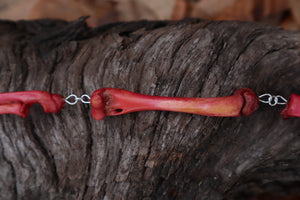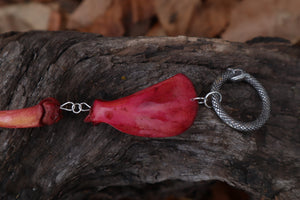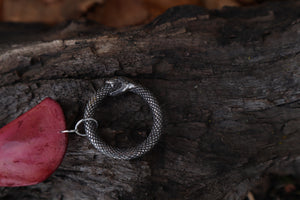 Naturally Stained Kitten Arm Fluid Articulation with Garnet "Claws"
This listing is for one Naturally Stained fluid articulated Domestic Kitten Arm with Garnet "Claws". You will receive the Domestic Kitten Arm Articulation pictured! This fluid articulation was created using a real Domestic Kitten Arm that has been processed from start to finish in our studio. It has been hand drilled, equipped with all solid filled Silver and .925 Sterling Silver Hardware, 4 real Garnet "Claws", and is wired to flow! This articulation has been stained with a homemade dye that consists of moon water blessed under the October Full Harvest Moon, Cayenne, Ginger Root, Mustard Seed, Tumeric, and Rose Madder. Each individual bone was then coated in an Archival Quality Resin to protect the color and add stability. This Arm was sourced from a kitten that was sent to us after passing away due to untreatable ailments in a shelter. Above the Scapula is a solid ornate metal Ouroboros ring. This fluid articulation is designed to be a keychain or displayed as is!  Please refer to photos! The Arm measures 12.5'' long.
These are real bones, we do not sell replicas.