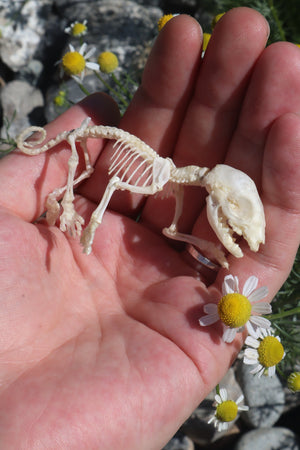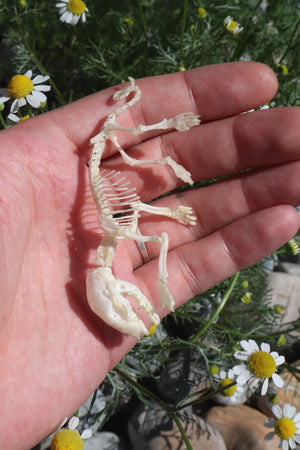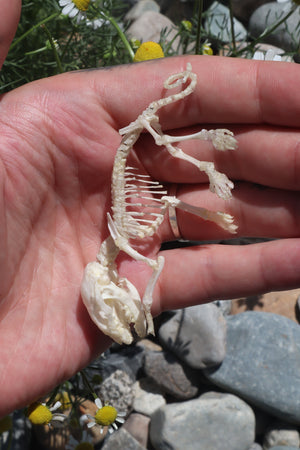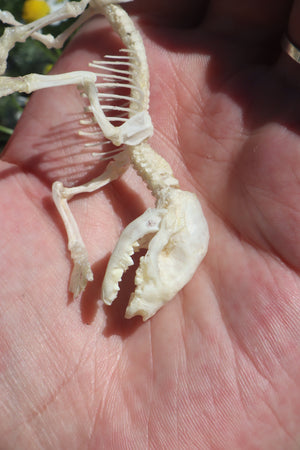 Opossum Joey Articulation
Opossum Joey Articulation for sale! This listing is for the real Opossum Joey Articulation pictured. This piece features a real fully articulated Opossum Joey skeleton that is hanging from a brass wire. It is suspended in a 6.75x4.25'' wood and glass shadow box. The shadow box has hanging hardware attached but it is also free standing and can be displayed without hanging it from the wall. The articulation is removable in order to ensure safe shipping. This Baby Opossum was processed, articulated, wired, and glued in our studio from start to finish. Please refer to the photos! 
Please note, This baby Opossum was found deceased inside their mothers pouch prior to being sent to us to be memorialized along with their siblings! We do not harm animals for our work.
This is a real Opossum Joey Skeleton cleaned and articulated by us in our shop. We do not sell replicas.  
If you are interested in a payment plan feel free to send us an email or send us a DM on instagram @freyjas.forest