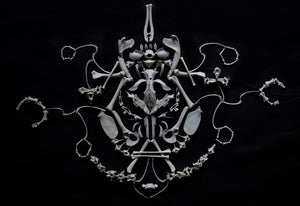 Craft Opossum Skeleton Lot
Opossum skeleton lot for sale! You will receive the real Opossum skeleton lot pictured. This is one Opossum skeleton including the skull from a single Opossum. The skeleton is not complete and has missing and/or broken pieces. It is not being sold as a complete skeleton. However there are phalanges, claws, scapula, vertebrae, ribs, sternum, leg bones, bone caps, carpals, tarsals, innominate bones, mandibles, teeth, skull pieces, phalanges, carpals, tarsals, and more. This skeleton was nature cleaned, degreased, and whitened. This is all reflected in the price! Please refer to photos. This skeleton would be perfect for crafts! 
This is a real skeleton, we do not sell replicas.