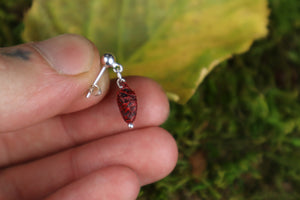 Parakeet Heart Earrings - .925 Silver
This listing is for one pair of Parakeet Heart Earrings. You will receive the pair of handmade Parakeet Heart Earrings pictured! These earrings have been created using real adult Parakeet Hearts! These hearts have been professionally dry preserved, hand painted, and sealed in archival quality resin. We received these Budgerigars after they passed away from natural causes in a wildlife park. This pair of earrings feature solid silver Ball and Post ear settings with Butterfly Nut backings. The hearts measure approximately .5'' long each. The entire setting including the ear hooks, the piece that goes through your piercing, are solid filled .925 Sterling Silver. 
These are real hearts, we do not sell replicas.