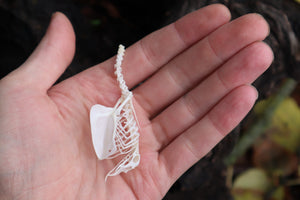 Parakeet Torso Articulation
Parakeet Torso Articulation for sale! This listing is for the real Budgerigar (Parakeet) Torso Articulation pictured. This Parakeet Torso has been fully processed, traditionally articulated, wired and glued in our studio! This Torso has been coated in archival quality resin to add stability and is being sold as is! A perfect material for use in your artwork, craft, or on display in a jar/as is! There are many different display options! Please refer to the photos! The Articulation measures 3" Long and 1" Wide.
Please note, This Parakeet passed away from natural causes in a wildlife reserve before being sent to us, we do not harm animals for our work.
 This is a real Parakeet Paw, we do not sell replicas.