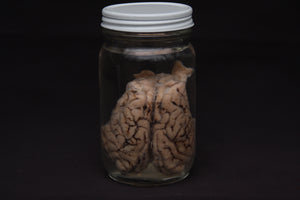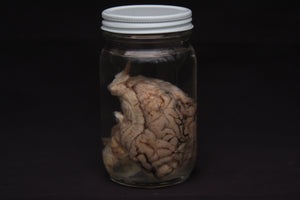 Pig Brain Wet Specimen
This Listing is for one Pig Brain Wet Specimen! You will not receive the exact brain pictured, however your brain will be of the same quality! The photos are examples only. This is a studio DESTASH!!! We found these brains in a box and they have been in there for about 9 months (thanks big move!) , because of this we decided to offer them at a halloween discount! We had long wondered where our brains were at haha! The Pig Brain Wet Specimen has been fixed in formaldehyde and is stored in 70% isopropyl Alcohol. The brain will include the jar pictured! 

The specimen will be shipped to you WITHOUT liquid, and the specimen will be vacuum sealed for extra protection! Upon receiving the specimen you will have to remove it from the vacuum seal, place it in the jar, and fill with at least 70% isopropyl. Gloves will be provided! If you have any questions feel free to message us! Free gifts with every purchase no minimum, no limit!