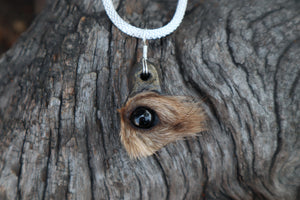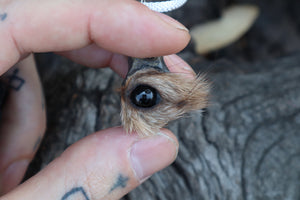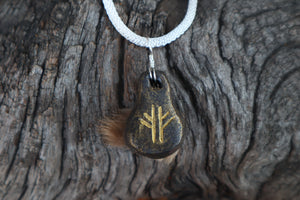 Pine Marten Eyeball Talisman
Pine Marten Eyeball Talisman for sale! You will receive the real Pine Marten Eyeball Talisman necklace pictured! This necklace has been created using real Dry Preserved Pine Marten Eye skin/fur,  including their eyelashes, that has been mounted over a glass eyeball and hand sculpted form in our studio from start to finish. On the back of the eyeball we have hand carved our Freyja's Forest logo which features the rune Fehu, this rune represents luck, abundance, and wealth. There is a small hole at the top of the pendant with wire wrapped .925 Sterling Silver hardware which is connected to an 18'' Silver Plated Metal Mesh chain. The pendant itself measures 1'' long and .75'' Wide.
The pendant can be easily removed from the chain and hardware if you wish to attach it to something else!
This is real Pine Marten Skin, we do not sell replicas.