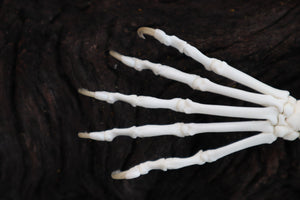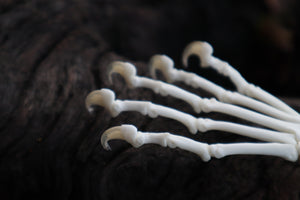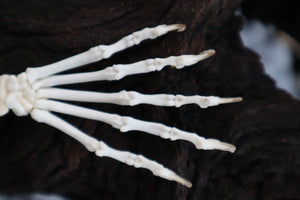 Polydactyl Cat Paw Articulation in Glass Dome
Polydactyl Cat Paw Articulation in Glass Dome for sale! This listing is for the real Polydactyl Cat Paw Articulation in a Glass Dome pictured. This front Polydactyl Cat paw has been fully processed, articulated, wired and glued in our studio! As you can see this paw is "Polydactyl" meaning this Cat was born with more than the "normal" number of toes and fingers. In this specific case the front left paw has an extra long phalange and no dew claw or thumb. This specific cat has this exact same pathology on the other front paw and each back paw has 5 toes rather than the normal 4. This paw articulation has been designed to be fully removable from its base for observation and safe shipping! The Glass dome is set into a hand carved raw "live edge" wood round. Please refer to the photos! The entire piece measures 5.25" tall and 3.5" wide.
Please note, this Cat passed away from an unfortunate road collision prior to being donated to us. We do not harm animals for our work.

 This is a real Polydactyl Cat Paw, we do not sell replicas.