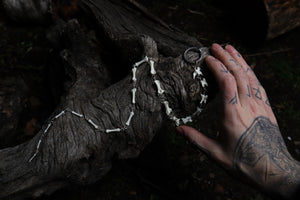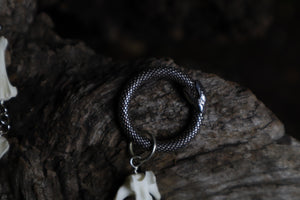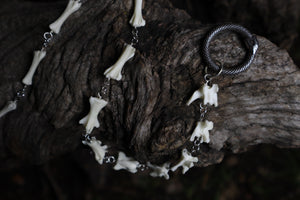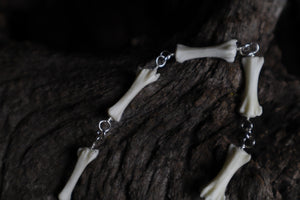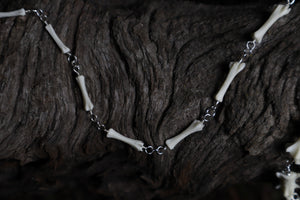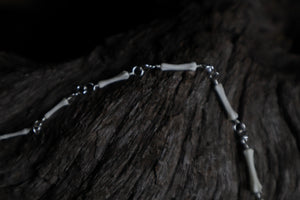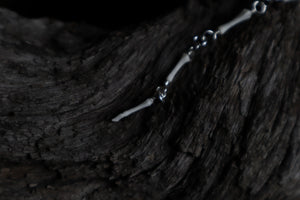 Fluid Polydactyl Cat Tail Articulation with Ouroboros Ring
Fluid Polydactyl Cat Tail Articulation with Ouroboros Ring for sale! This listing is for the real fluid articulated Domestic Cat Tail pictured. This fluid articulation was created using a real Domestic Cat Tail that has been hand drilled and "wired" to flow naturally. All of the hardware used excluding the last two display rings are Solid Filled Silver, this includes the wires that run through each bone. This particular Fluid tail articulation features a silver colored brass Ouroboros Ring, the serpent eating its own tail which represents wholeness, the cycle of life, and the universe. This fluid articulation is designed to be displayed as is hanging on the wall or lying on an altar. The articulation measures 21.5'' long.
These tail bones come from a Polydactyl Cat that we have been processing in our studio. Polydactyl means born with one or more fingers or toes than is "normal". This specific cat was born with an extra toe on each foot and one extra long finger on each paw with no dew claws. 
Please note, this Cat was donated to us after passing away from and unfortunate road collision. We do not harm animals for our work.
These are real Polydactyl Cat bones, we do not sell replicas.