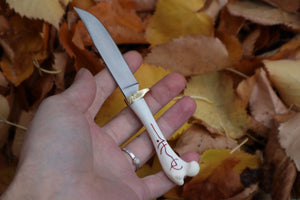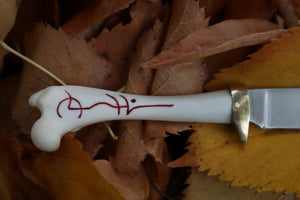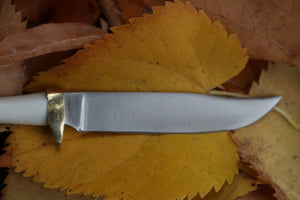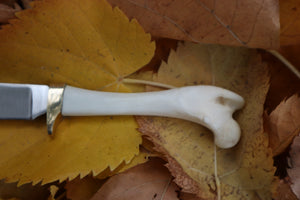 Raccoon Femur Knife
Raccoon Femur knife for sale! This listing is for the real handmade Raccoon Femur Knife pictured! This knife has a real professionally processed hand carved Raccoon Femur for a handle, a sharpened solid stainless steel blade, and a solid brass bolster. Details of the different sections of the knife are below in the photos! The knife measures 6.75'' Long with a 3.5'' blade! The femur has been hand carved and naturally stained with a symbol which roughly translates to "night" and is an original creation based off of the enochian alphabet. The symbol represents the crossing of the abyss. The carving has also been sealed with resin for extra protection. If you have any questions please message us!
This is a real Raccoon Femur, we do not sell replicas.
If you would like a custom leather sheath for an additional fee of $60 + depending on options please get in touch and we can discuss details!