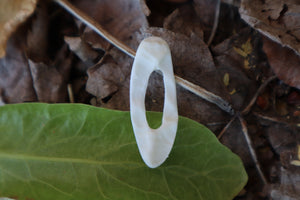 Raccoon Skull Adder Stone
Raccoon Skull Adder Stone for sale! You will receive the real Raccoon Skull Trinket pictured! This "Adder Stone" has been hand carved out of a single piece of Raccoon Skull cap in our studio from start to finish. The skull cap has been carved in the likeness of an Adder stone, for those who may not know a Adder Stone also known as a Fairy Stone, or Hag Stone is a stone with a naturally occurring hole in it! These stones were believed to give the owner luck amongst processing other magical properties. While the hole in this piece is hand carved and not naturally occurring, this beautiful natural material has been carved in homage to this folk stone with the intent of bringing luck and prosperity. It measures 1.25'' long and .5'' Wide.
Please note, If you would like this talisman to be equipped with a 18'' Silver plated brass chain for a necklace we will do this for an additional fee of $5! Please include it in your notes, send us a DM, or an email if you would like this done and we will set up payment with you.
This is a real bone, we do not sell replicas.