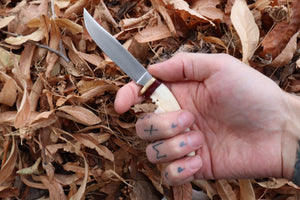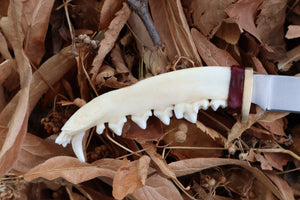 Red Fox Mandible Knife
Red Fox Mandible Knife for sale! This listing is for the real one of a kind handmade Red Fox Mandible knife pictured. This knife features a real professionally processed Red Fix Mandible handle, a solid brass bolster, and sharpened solid stainless steel blade pictured. This is not a toy! It is a sharp knife that has been designed for light ceremonial use and display.  Details of the different sections of the knife are below in the photos! The knife is 7'' Long with a 3.5'' blade! If you have any questions please message us!
Please note, all of our knives are created to honor the spirit of the creature who has passed on from this realm. Our knives are crafted with concepts of the traditional Athame and the Familiar in mind. 
If you would like to order a handmade leather sheath you can do so by emailing us or including "I would like to purchase a sheath" in your order notes! Our handmade sheaths are made right here in our studio and take 2-4 weeks to craft, they include a choice of leather dye, thread color, and custom runic stamps, and they cost an additional $40.