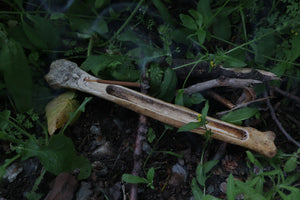 Reserved for Anthony - The Watcher of The Wood Bone Incense Holder
Hand Carved Great Pyrenees Mountain Dog Bone Incense burner for sale! This incense burner was hand carved out of a real naturally stained Great Pyrenees Dog Radius Bone that had been processed by burial for three years before being further processed in our studio! This wise Watcher of the Wood measures in at 9" long and is ready to protect and accompany you during your spiritual journey!
Please note, this  bone has been sourced from a pet Dog that passed away from natural causes at an old age prior to being donated to us for our work by the wonderful @fabled_oddities ! We do not harm animals.  For those who may not know, the Great Pyrenees otherwise known as the Pyrenean Mountain Dog is a historical Guardian dog that was used by shepherds throughout the Pyrenean Region in France for centuries to protect their flocks from predators such as bears and wolves. They are still guardians to this day in the U.S. and throughout the world!
This is a real Radius Bone, we do not sell replicas.