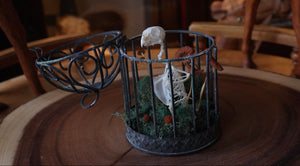 Reserved for Brandon - Craft Parakeet Articulation Sculpture
Reserved for Brandon - Craft Articulated Parakeet Sculpture for sale! This adorable little articulated Parakeet (Budgerigar) Skeleton in a Bird Cage had some natural damage occur prior to being sent us including a few damaged ribs and a fractured humerus/broken tibia. The articulated skeleton has been processed, wired, and glued from start to finish in our studio. The skeleton is positioned in a small metal bird cage which can be displayed hung or on a shelf. Inside sits real dry preserved moss and mushrooms. All of the mushrooms and the skeleton are removable for safe shipping. Includes dry preserved feet.
 Please note, this Parakeet passed away from natural causes in a wildlife reserve before being sent to us, we do not harm animals for our work.

This is a real Parakeet Skeleton, we do not sell replicas.