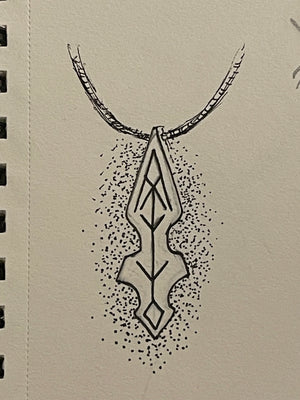 Reserved for Denea - Gungnir Wolf Bone and Copper Talisman
Custom Made to Order Gungnir Wolf Bone and Copper Talisman for sale!
Please note, this necklace is handmade to order and will take 3-4 weeks to create and ship! Each carving is one of a kind and may vary slightly. 
This talisman has been hand carved out of a single piece of Wolf Bone and set into a real Copper Backing created in our studio from start to finish. The bone is in the shape of Gungnir, Odin's spear that never fails to hit its target despite their skill or strength. The bone has been engraved with an original Gungnir bindrune that has been stained with a homemade dye featuring Hunter's Moon Water, Wolf Blood, and Madder root. The pendant hangs on an adjustable cord. 
Please note, these bones have been sourced from a Northern Rocky Mountain Timber Wolf, the Northern Rocky Mountain Timber Wolf is a subspecies of the Gray Wolf located in the Northern Rocky Mountain range. This is not an ESA-listed sub-species and is legal to sell and posses. Idaho Fish and Game Mortality Report available on request. 
This is real Wolf Bone, we do not sell replicas. 
Please know your state laws when purchasing Wolf Parts. If you have any questions feel free to send us a DM or an email!