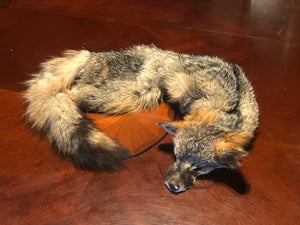 Reserved for Hannah - Craft Gray Fox Wallhanger
Craft Gray Fox Wallhanger for sale! You will receive the Real Craft Gray Fox Wallhanger pictured. This Craft Gray Fox Pelt Pelt was dry tanned and the leather is very flexible and soft! It does not have arms/legs attached, and is case skinned for a wallhanger, meaning it is purely for display on the altar, on the wall, or elsewhere. This is a craft quality pelt meaning there are some holes, slip spots, and damage throughout, and there is some hair pulling through the leather side. Please refer to the photos! This pelt measures 39" long by 12" wide. All measurements taken at the longest point!
This pelt was tanned in our studio.