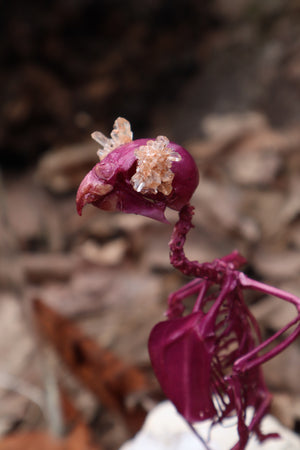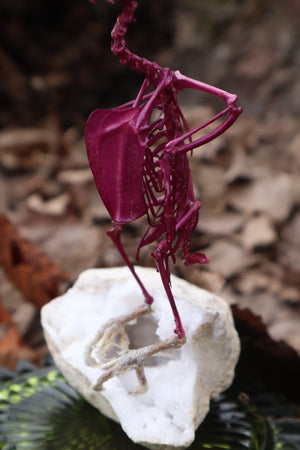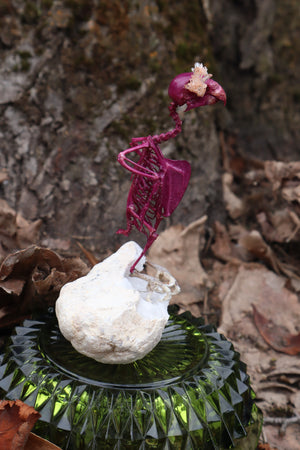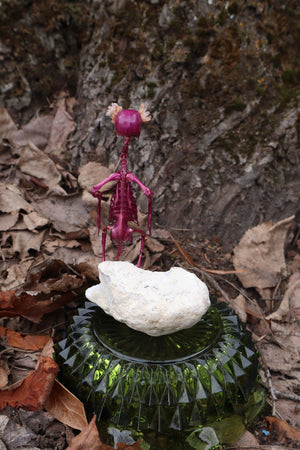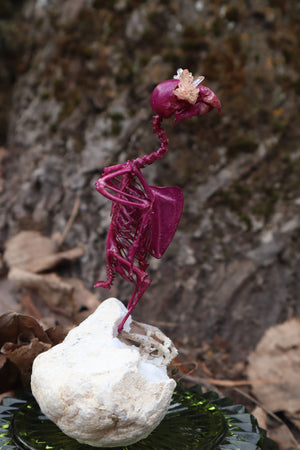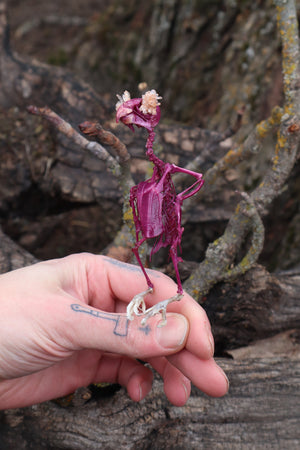 Shadowkeet the Psychopomp
Shadowkeet the Psychopomp - aka Naturally stained Parakeet Articulation sculpture in Glass Dome for sale! This listing is for the naturally stained Budgerigar Articulation in the Glass Dome pictured! 
This Parakeet passed away from natural causes in a wildlife reserve before being sent to us, we do not harm animals for our work.
This Parakeet has been processed and articulated in our studio from start to finish! They have been traditionally articulated, wired and glued. The entire skeleton has been naturally stained in our studio using Moon Water blessed and brought forth under the January Wolf Moon as well as other natural ingredients. This sculpture also features solid filled silver wires running through the femurs of the actual skeleton, these wires protrude from the feet for easy posing. The skeleton has real creedite cluster eyes and sits perched on a real quartz geode! The entire piece rests on a vintage green ornate crystal base and has a glass dome cover.  Please refer to the photos. Everything has been designed to be completely removeable from the glass dome and base for safe shipping, The Budgerigar Articulation measures 4.5" tall and 2" wide and the glass dome/base measures 9" tall by 5.5" wide. This piece will take 1-5 days to ship due to the fragility and special packing requirements. 
This is a real Budgerigar Skeleton cleaned and articulated by us in our shop. We do not sell replicas.  
If you are interested in a payment plan feel free to send us an email or send us a DM on instagram @freyjas.forest