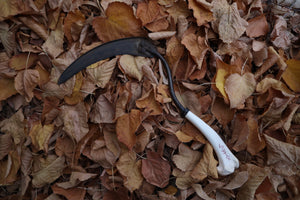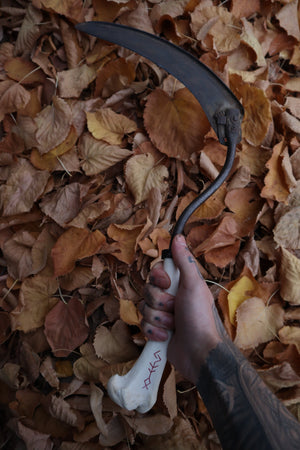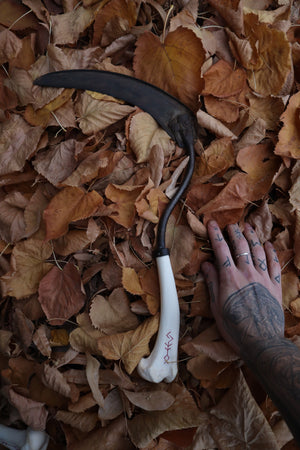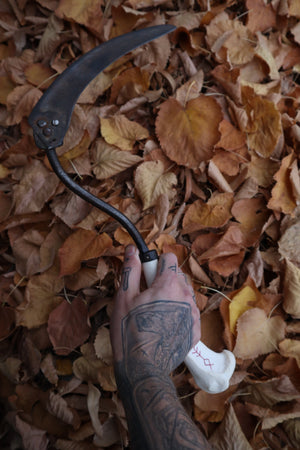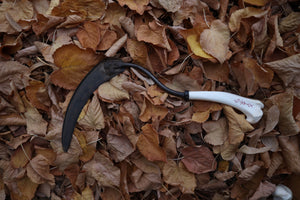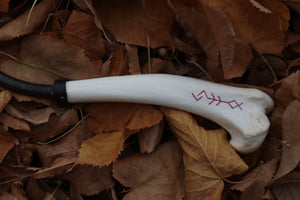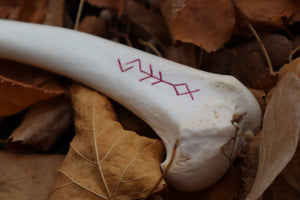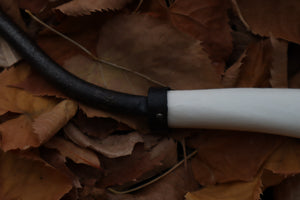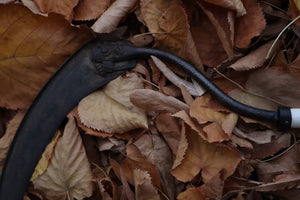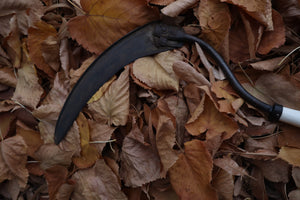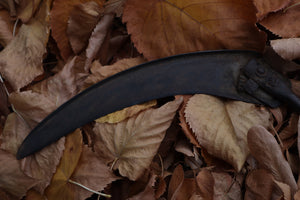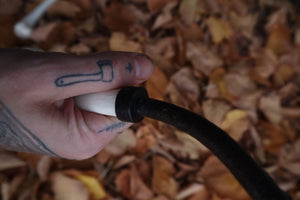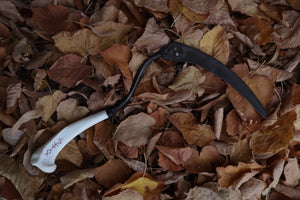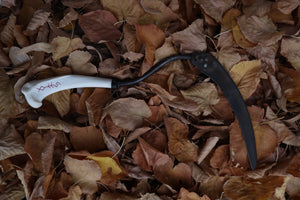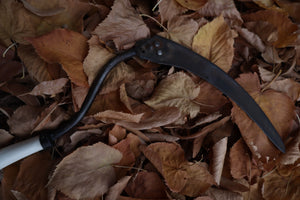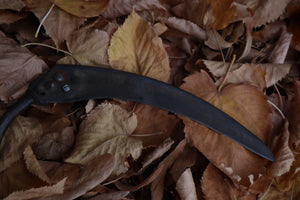 The Wolf of the Harvest Sickle
The Wolf is in the field, waiting for the one who will bind the last sheaf.
The Wolf of the Harvest Sickle for sale! This listing is for the handmade The Wolf of the Harvest Sickle pictured. Crafted with the spirit of the Harvest by our side these breathtaking ceremonial sickles have been bound with an original rune of the Harvest allowing each sickle to aid in connecting with the Wolf of the field and housing their protective and abundant nature. The sickles have been crafted with real Timber Wolf Arm Bones (Humerus) that have been processed and hand carved in our studio from start to finish, a fitted iron bolster, and an antique harvest sickle which we have refurbished. The carvings have been stained with a homemade dye containing Wolf Blood, Madder Root, and Moon water blessed under the recent Harvest Moon. Please note, these are real antique farm sickles and have normal wear from being used as such. Each sickle measures approximately 16" long by 12" wide.
During the time of the harvest many cultures believed the spirit of the field was embodied in the final sheaf of wheat, rye, corn, or other crop to be harvested. This spirit of the field was often seen as a Wolf, the Wolf of the field. The reaping of the final sheaf was said to cause the Wolf to either perish or become one with the reaper causing interesting repercussions in both events. Many variations of this tradition are seen crossing the boundaries of culture and geography and can be observed in detail in James Frazer's The Golden Bough.
This is a real Wolf Humerus, we do not sell replicas.
Please note, this bone has been sourced from a Northern Rocky Mountain Timber Wolf, the Northern Rocky Mountain Timber Wolf is a subspecies of the Gray Wolf located in the Northern Rocky Mountain range. This is not an ESA-listed sub-species and is legal to sell and posses. Idaho Fish and Game Mortality Report available on request. 
Please know your state laws when purchasing Wolf parts.