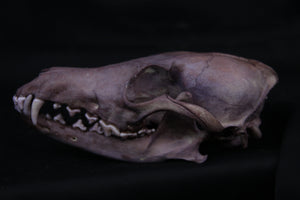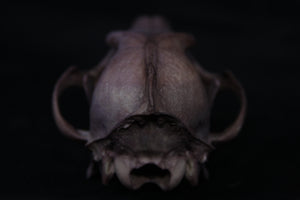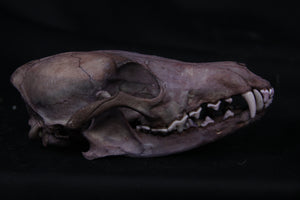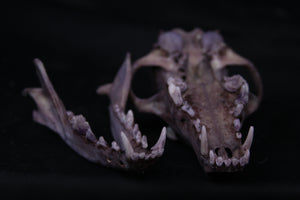 Vitality Stained Coyote Skull
This listing is for the stained Coyote skull pictured. This Coyote has been stained using a mixture of Prickly Pear, Japanese Maple Leaves, Raspberries, Red Rose Petals, Myrrh, Wine, Dragons Blood Resin, Meadowsweet and Orris Root. We chose these herbs because they are associated with vitality.
Myrrh - is used in purification rituals to banish negative energy, it is said to not only protect the user from harmful influences but also break curses or hexes. 
Wine - Commonly associated with divine love and harmony with nature, wine is an ancient drink said to be enjoyed by the gods and is still used in many religious ceremonies today. It well known for its romantic properties and is often used in love spells and as a furthering of spiritual development. 
Dragons Blood - Most known for its protective qualities, it has a very powerful energy and the ability to purify. It is said to increase the potency of a spell if burned during the process. Dragons Blood brings good luck and has the ability to drive away negativity from a home. This mystical resin is also known to be used a sort of magical ink. 
Meadowsweet - used to increase good fortune and prosperity. It is said that meadowsweet can be used to increase the chances of finding a career or love or a future in general. It promotes moving away from the negative influences in your life and going forward.
Orris Root - Known to draw in love, this herb is told to bring an abundance of all sorts of good energy! It draws in good energy instead of banishing negative energy.
No missing teeth! Please refer to the photos! Length 4.75'' Width 3'' Height 2.25''
All of our skulls are real animal skulls and we do not sell any replicas. We clean all of the skulls ourselves.