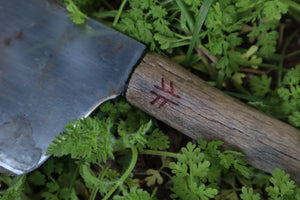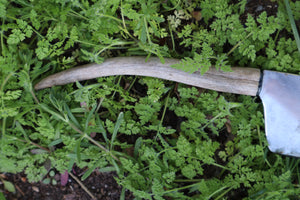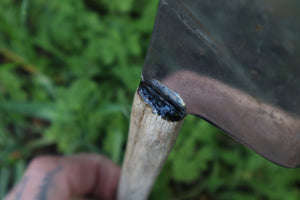 Whitetail Deer Antler Butcher Knife
Whitetail Deer Antler Butcher Knife for sale! This listing is for the one of a kind handmade Whitetail Deer Antler Butcher Knife pictured. This knife has been created using a found naturally shed Whitetail deer antler that has been hand carved and stained right here in our studio! The antler even shows signs of small critters nibbling! The knife features a repurposed sharpened antique Butcher knife blade with an aged patina. The antler has been carved with our very own Freyja's Forest Sigil and the carving has been stained using a natural dye created in our studio that features Moon Water Blessed and Brought Forth under the most recent April Pink Super Moon and Madder pigment. The entire handle has been sealed with an archival quality resin to waterproof the stain and help protect the antler. The area where the antler meets the blade has also been sealed with a home foraged and homemade pine pitch! This is not a toy! It is a sharp Knife that can either be displayed or lightly used. Details of the different sections of the Knife are below! This knife measures 12'' long and 2.5'' wide. If you have any questions please message us!
This is a real Deer Antler, we do not sell replicas.