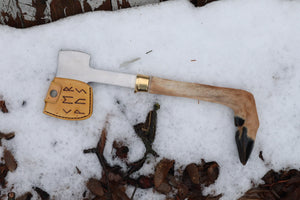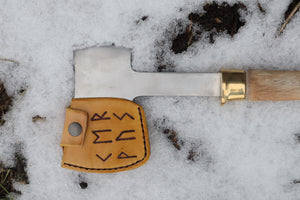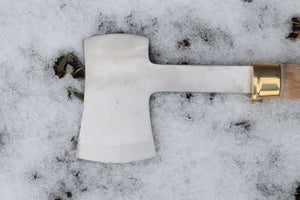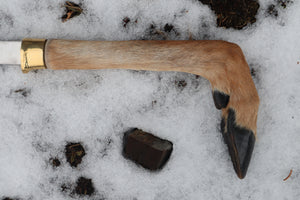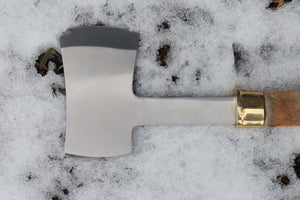 Whitetail Deer Hoof Hatchet with Leather Sheath
Whitetail Deer Hoof Hatchet for sale! This listing is for the one of a kind handmade Whitetail Deer Hoof Hatchet with the handmade leather sheath pictured. This Hatchet features a real dry preserved Whitetail Deer Hoof handle with solid steel sharpened blade and solid brass bolster. The hoof has been professionally preserved in our studio from start to finish. This specific Hatchet also features a handmade Cowhide Leather Sheath! The sheath has been handmade, dyed, stamped, and inlayed in our studio. It features the Elder Futhark Runes which translate in to "Cervus" the Latin word for Deer and/or Stag and are inlayed with a brown leather dye. This is not a toy! It is a sharp Hatchet that can either be displayed or used lightly. Details of the different sections of the Hatchet are below in the photos! The Hatchet is 14'' Long with and 6'' Wide! If you have any questions please message us!
This is a real Deer Hoof, we do not sell replicas.